Description
Bluetooth x2
Bluetooth means no more using those stinking cables to connect to your head sensors. Your gun
will communicate wirelessly to the included head set. A second bluetooth module allows even greater connectivity to other devices like a smart phone!
Updatable 
Our equipment allows you to install our firmware updates right from your computer as we roll out changes. Say good bye to outdated firmware and say hello to fresh innovation.
SD Card
Our equiment now features an SD card which will allow you to update your equipment with brand new sound files!
Easy to Swap Battery Pack
Our equipment has a new battery pack that can be quickly swapped that charges in and outside the gun.
Class 1 Eye Safe Laser
Each unit includes a FDA certified Class 1 laser that provides maximum range with a longer life span than traditional LEDs used in systems of the past.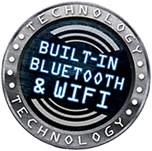 WiFi Technology 
With built-in WiFi the our equipment can connect our newly created game engine called EDGE. This unlocks the battlefield in whole new ways. For more information about EDGE 
click here!
Vibration Feed Back 
When you shoot or get shot by other players… you feel it! The built in rumble mechanism makes the game come alive and is not found in any other unit in the industry.
Visual Health Indicator
The LEDs found on the front of our unit act as a visual health indicator to players. This makes it easier for players to know where their health is at.
Powered Scope Port
Sick of changing out the batteries on your red dot scopes? Our Equipment can power our specially modified scopes to make sure no player is without power.
Adjustable Click Tube
A new adjustable click tube is seated in the barrel of every Battler Rifle that will allow you to change the spread of the beam emission from the unit.
Weapon Types
Our equipment comes with 8 default weapon types. The Battle Rifle, Burst Rifle, SMG, Heavy Machine Gun, Shot Gun, Sniper, Battle Cannon, and Assault Laser are ready to use out of the box. Each weapon preset includes unique characteristics that you can edit like range, damage, clip size, reload speed, and rate of fire. You can also select any one of our 14 different sound effects to make the gun best fit your business.
Special Weapon Types
Special weapon types like our charge rifle and laser rifle and our new infected gun type are unique and allow more fresh game play opportunities
Custom Weapon Slots
3 customs weapon slots gives you even more freedom to create weapon types of your choosing for quick selection.
Primary and Secondary Weapon Slots
A first of it's kind feature that lets players equip 2 different weapon types. Players can switch weapons on the fly on the battlefield. When used with our Utility Box you can create power weapons that players can pick up in the heat of battle to get an edge over their enemy.
Shooting Range
The range of the our equipment in broad daylight is 600+ ft! This gives you plenty of range, especially for outdoor settings. Range values can also be scaled up and down to perfectly fit your type of battlefield.
Melee Attacks
That's right! You read it…..melee attacks! The first time ever players will have a new way to attack their opponents. Stop the laser tag dance with our all new melee attack ability!